The transformation of its feedstock material base to greenhouse gas neutrality poses one of the greatest challenges for the chemical industry.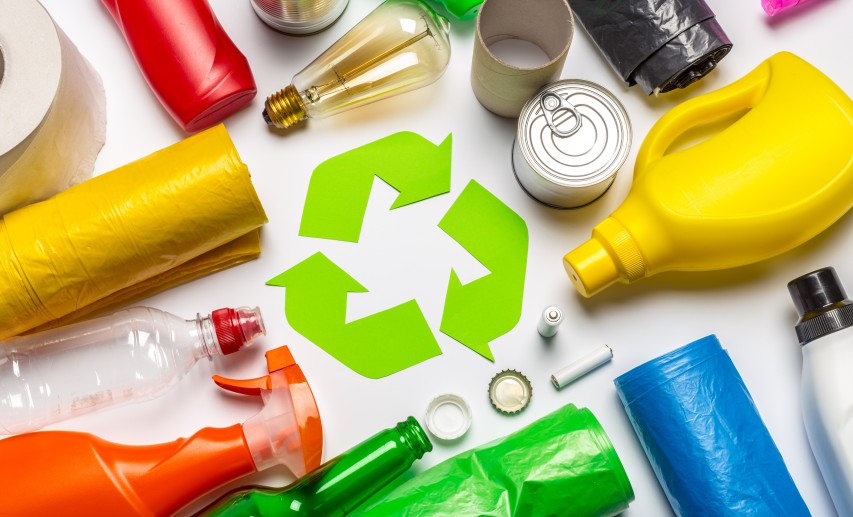 Executive Summary
In the context of climate change, the chemical industry is facing one of its greatest challenges: transforming its feedstock base to greenhouse gas neutrality. One option for diversifying the feedstock base is the chemical recycling of plastics waste in combination with the use of synthet-ic hydrocarbons, using carbon dioxide and "green" hydrogen.
Experts of the collaborating organisations, BKV, DECHEMA, PlasticsEurope Deutschland and VCI have identified demand for research and development at the interface of P2X sector coupling hydrogen technologies and chemical recycling of plastics waste. In this document, they provide suggestions for the launch of research programmes by the German Federal Ministries and activities of the engaging organisations and their members:
The potential for expanding mechanical and chemical plastics recycling is substantial. There is a complementarity of recovery routes between mechanical and chemical recycling. Chemical recycling technologies supplement mechanical recycling, especially for those recyclable material streams that cannot be processed mechanically in an ecologically and economically sustainable way. Of special importance for the respective processes of chemical recycling of plastics waste is the pretreatment of waste streams.
If necessary and depending on the waste qualities, both mechanical and chemical recycling technologies should be applicable, to optimise overall recycling while achieving the highest possible degree of economic efficiency. The various chemical recycling processes can also complement each other. Their effective synergistic interaction requires criteria that need to be elaborated in more detail. For this purpose, the suitable technologies for chemical recycling of plastics waste need to be further developed to complement mechanical recycling. Furthermore, the regulatory and political framework must be shaped adequately.
Product optimisation and up-scaling are important for the realisation of large-scale applications of pyrolysis and gasification processes.
It should be noted that hydrogen is needed also for the processing of products from pyrolysis of plastics waste and, thus, for the utilisation of recycled carbon in this manner. This additional demand of hydrogen must be adequately considered in technology development.
It is necessary to establish demonstration plants for chemical recycling. The cost-efficient integration of supply and disposal in the logistics of chemical sites is important for building-up centralized chemical recycling processes.
Life cycle assessments (LCAs) are important to assist the development of technologies. However, they are only suitable to a limited extent when to provide information for political or business decisions. LCAs can have a supportive role in decision-making.
Regulatory framework conditions are often decisive for the establishment of alternative technological options. In particular, adequate consideration of chemical recycling in waste legislation is a basic prerequisite for further activities of the chemical industry.
There is a need for research and funding regarding the use of hydrogen in chemical recycling processes, particularly concerning the use of hydrogen in pyrolysis, hydrogenations, reaction control, and the efficient coupling of the waste recycling industry with the chemical industry. Here, strong emphasis should be put on the topic of after-treatment of pyrolysis products for subsequent processing in chemical production sites. In principle, technology neutrality of different systems and processes in the value chain should be aimed at, i.e., chemical recycling technologies should be designed as processes that complement to mechanical recycling operations.
Further challenges are increasing technological readiness, scaling up, investing in demonstration projects and testing projects under practical conditions ("Regulatory Sandboxes", "Reallabore"), moreover building infrastructures such as hydrogen pipelines and reducing the costs of generating and subsequently using green hydrogen, furthermore, certifying the recycled content in pyrolysis products, and gaining acceptance for chemical recycling technologies.
Key development criteria for chemical recycling technologies are described in this paper. These include ways to minimise the proportion of heteroatoms. Elementary research remains important for the basics of technology development of chemical recycling – such as, not least, fundamental studies on the energy balance of the carbon cycle.
Furthermore, recommendations are derived on overarching issues regarding waste streams, markets, and the use & demand of produced recyclates.
The full-length document (in German language) can be accessed here:
Contact
For questions or suggestions, please feel free to contact us.
Contact person
Dr. Martin Reuter
Forschungspolitik (national), Technologiepolitik